This post may contain affiliate links for which I could earn a commission. Using these links is not required but is always appreciated and will not affect the price you pay.
Introduction
Check out these Christmas coffee mugs for 2021, available from Etsy. They make for great gifts but are also a practical addition to your holiday table. Sturdy and easy to wash – microwave and dishwasher safe – ceramic mugs are super useful to have on-hand when entertaining.
Of course, there are thousands of options out there which can make shopping pretty overwhelming. I've chosen to highlight ten designs from my Etsy shop that exhibit a mix of styles to help narrow down your choices.
Mug Styles Selected
One category in my shop is a range of designs with "Merry Christmas" (or equivalent) in various languages. I'm always trying to expand availability, so message me on Etsy if you can't find one you'd like.
You'll also see a selection of more whimsical or cute mugs below, including singing mice, a peaceful church scene, and a call-out to that obsession of the holiday season: Hallmark Channel's Christmas movies. Plus some classic holiday phrases – Merry Christmas and Let It Snow.
Shopping on Etsy
All of these designs are available in either an 11 ounce or 15 ounce size. While most use a classic white mug base, one option has a pretty black glaze.
When shopping on Etsy, always check to see if any of the shops have discounts or free shipping offers. Either can be a good way to save a little this year! I happen to offer free shipping within the USA for orders over $35, and you'll find similar with other sellers.

God Jul Scandinavian Mug with Tomte


Luxembourgish Snowflake Mug Schéine Chrëschtdag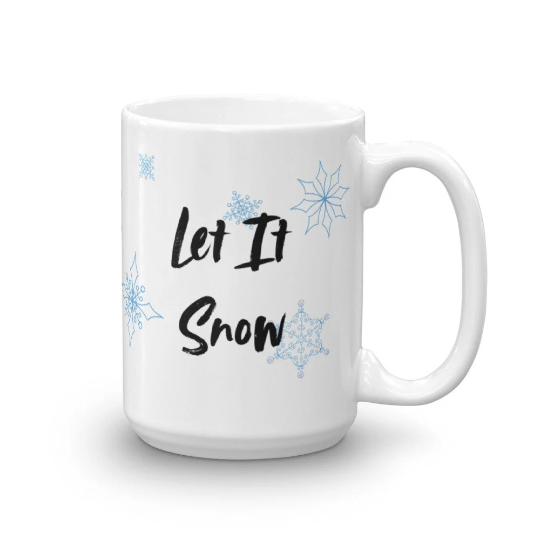 Let It Snow Mug with Blue Snowflakes


Merry Christmas Coffee Mug with Holly Sprig


Mug for Baking and Watching Holiday Movies


Danish Christmas Mug with Cute Fox


Peaceful Christmas Scene on Black Ceramic Mug


Singing Christmas Mice Coffee Mug